Fresh Roasted, Fresh Ground, Fresh Brewed
What Is Café Femenino Foundation?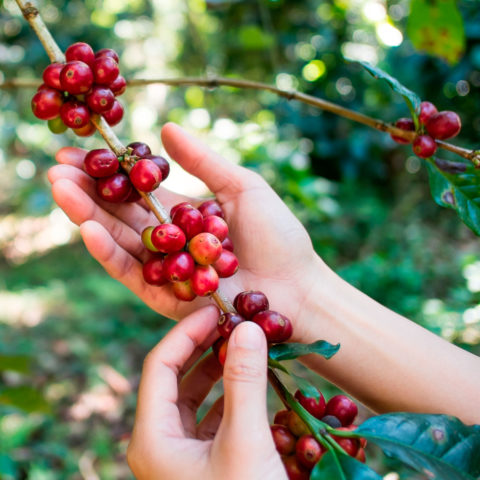 FirePower Coffee Roasters, LLC, chose to participate in the Café Femenino program to help support women coffee farmers in producing countries. When you choose Café Femenino coffees you're choosing much more than specialty coffee as we donate 10% of our green coffee purchases back to the Foundation. The Café Femenino Foundation helps women take on leadership roles, obtain title to the land on which they farm and earn an extra premium for their high quality coffee beans. Help support this cause and read more about the program here at: https://www.coffeecan.org/ or donate directly every time you use AmazonSmile.
What is AmazonSmile?
AmazonSmile is a website operated by Amazon with the same products, prices, and shopping features as Amazon.com. The difference is that when you shop on AmazonSmile, the AmazonSmile Foundation will donate 0.5% of the purchase price of eligible products to the charitable organization of your choice.
How do I sign up?
Amazon will donate 0.5% of the price of your eligible AmazonSmile purchases to the Café Femenino Foundation whenever you shop on AmazonSmile.
Click this link https://smile.amazon.com/ch/20-1827295
It will take you to your Amazon account.
You will be asked if you want to select Café Femenino Foundation as the charity you want to support.
Click YES
You are done and ready to start shopping!
Do all of your future Amazon shopping at smile.amazon.com for the 0.5% to be donated to Café Femenino Foundation.
Two Leaves and a Bud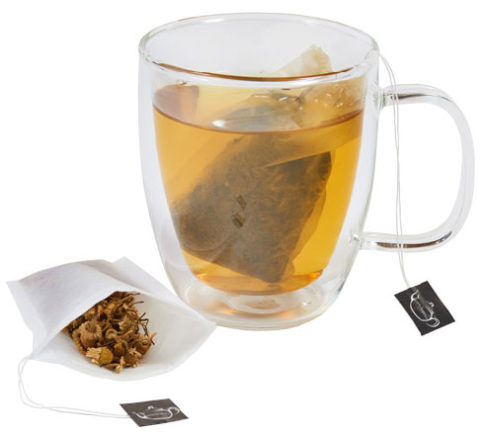 Two Leaves and a Bud is an independent tea company based in the mountains of Colorado. It is named for the part of the tea plant plucked by hand to make the world's best tea. These quality, whole-leaf teas, herbs, and spices have room to infuse completely in signature pyramid-shaped sachets, resulting in delicious, nuanced flavors.  To keep these organic, fairly traded teas tasting garden-fresh, the compostable sachets are individually wrapped in eco-friendly clear sleeves. Awaken or relax with a delicious cup of Two Leaves and a Bud tea today!
What does it take to make a great cup of coffee?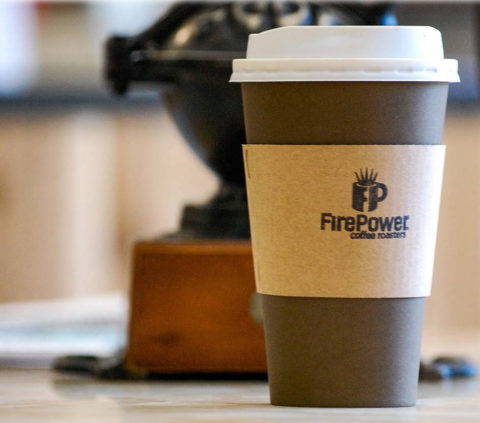 There are six essentials to a Great Cup:
Correct coffee to water ratio – The Specialty Coffee Association recommends a 16:1 ratio of water to coffee.
Grind size – For a balanced extraction to arrive in your cup you need a grind size that matches your brewing method for the equipment used and the grind size must also correspond to the length of the brew. A good resource for this is found at: https://www.cnet.com/how-to/coffee-grind-size-why-it-matters-and-what-you-should-be-using/
Brewing method – Several different methods exist and popular ones include: steeping (mixed with hot water and extracted without a filter), decoction (extreme turbulence), percolation (pump moves hot water repeatedly through the coffee particles), drip (hot water flows through the coffee grounds and is caught in a container below), vacuum filtration (uses a two chamber device where water is boiled into an upper chamber where the ground coffee is contained and when heat is removed allows the siphoning of the brewed coffee to occur back to the heating chamber) and pressurized infusion (uses extremely fine particles and forces hot water through the coffee grounds). Each of these methods employ different devices for making coffee and literature is available for the various methods – study the guides, experiment and dial in your favorite brew. Don't be afraid to experiment (safely of course).
Proper brewing technique – Water contact time is important as you want the optimum extraction to occur so you're not wasting coffee unnecessarily and you brew a uniform coffee. The extraction time is controlled by the brewing equipment and will vary by manufacturer. Water temperature is critical and must be between 195 and 205 degrees Fahrenheit. With water in this range proper extraction is allowed and within a reasonable amount of time. Turbulence is necessary to wet all the coffee particles so that the soluble materials can dissolve properly. Brewers that pulse with some force and frequency are best suited and you should look for these features when buying a new brewer.
Water quality– coffee is over 98% water and if you don't have good water you just can't make a great Cup o' Joe. Hardness, pH and alkalinity are three of the important factors and your water should be tested for each. Kits are readily available over the internet or suppliers near you. We recommend testing so you know what your dealing with. Regarding chlorine, if you're on a municipal water source it can suppress the natural aromatics of coffee and your water needs to be rid of the chlorine through a filtering process. Water is considered acceptable if odor free and free of chlorine, contaminants and bacteria and 

have a total hardness of 50–175 ppm CaCO3 (2.9–9.8 °d).
have an alkalinity of 40–75 ppm CaCO3 (2.2–4.2 °d).
have a pH of 6.5–8.
*Above ranges from the SCAE Water Chart

Appropriate filtering medium – if not using a filter, one usually winds up with a mouthful of coffee grounds. Filters are used to clarify the beverage for your enjoyment in consumption. Several types exist: perforated metal plates (these have small holes that allow only very fine particles to pass and make a "murky" cup of coffee), woven wire screen (much smaller holes and provides a better filtering of the coffee), cloth (these are stored in cold water and provide a high degree of coffee filtering) and lastly paper filters (these provide the clearest filtered coffee and be sure they do not transfer any unwanted taste to your brew). The above filtering types are mainly centered on your preference, what suits your taste and aroma senses.
We measure our brewed coffee with a Total Dissolved Solids (TDS) meter to verify where we are on the brewing control chart. This is a valuable tool which determines the solubles concentration in coffee to set an optimum balance and extraction in your coffee brewing process.
What are Agtron Numbers and Degree of Roast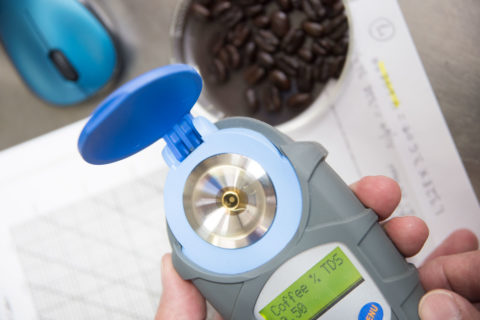 One of the ways we control the consistency of roasting is through the use of Agtron Color Disk System and the Specialty Coffee Association Roast Classification. The Agtron Coffee Analyzer is a near-infrared abridged Spectrophotometer, designed specifically for high resolution analysis of the degree of roast of ground and whole bean coffee. FirePower Coffee Roasters utilizes the Agtron color disk system developed for visual comparators of roasted coffee to the reference disk value. The roast classifications that FirePower Coffee Roasters use are as follows:
| ROAST CLASSIFICATION | AGTRON COLOR TILE DISK VALUE |
| --- | --- |
| Light | 85 |
| Medium | 55 |
| Dark | 35 |
| Very Dark | 25 |
Our Certifications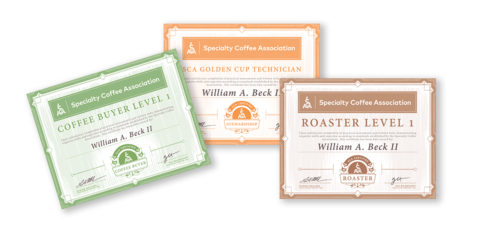 William and Carol together hold over 10 certifications in Coffee and Tea Educational Programs and Food Safety.  They both have completed other course work related to coffee processing and preparation.
Why did you choose Roaster Dynamics, LLC as your roaster manufacturer?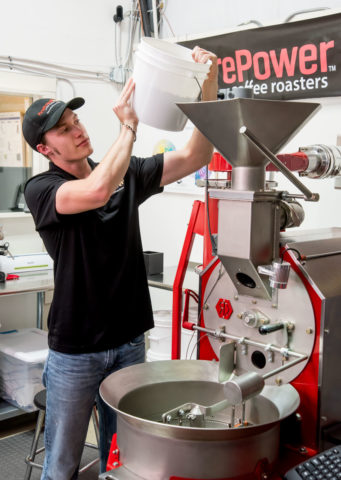 We studied capabilities of many different coffee roasters on the market from fluid bed or hot air and drum type roasters. We selected Roaster Dynamics, LLC as they produced a machine with both high daily capacity and either full manual or automated controls utilizing a full profiling dynamic software suite. The Roaster Dynamics profiling software allows us to capture and repeat specific roasts. The software controls the roaster burner, charge temperature, environment temperature, bean temperature, drum speed/main blower, stirring, cooler blower, door operations and we set target points for the system to roast to. With this level of control we can maintain uniformity batch to batch for various coffee varieties and produce for our customers the coffee they expected.
Another important reason we picked Roaster Dynamics, LLC is that their roasters are "Made in the USA" and located a short 2½ hours from us in the same time zone.
MOON TREE™ – COFFEE BLEND
      The 1971 Apollo 14 mission to the Moon included 500 seeds of various trees in small containers in the personal kit of astronaut Stuart Roosa, as part of a joint NASA and US Forest Service project. The seeds circled the moon in the command module "Kitty Hawk" while the other astronauts aboard the "Antares" lunar lander explored the Moon. The seeds were sent to Forest Service stations and nearly all were successfully germinated. After some years 420-450 seeds were growing as seedlings. Many of these Moon Trees were planted at locations around the world including in the hometown of FirePower Coffee Roasters (Keystone Heights, Florida).
      Our popular coffee blend is branded MOON TREE™. The story behind the name is due to our roaster and coffee technician, Kenny Booth, whose uncle, a local nursery owner named Bob Burns, acquired a Moon Tree seedling from the University of Florida and had the tree planted/dedicated in 1984 at the Keystone Heights library.
For more information, please visit:  https://nssdc.gsfc.nasa.gov/planetary/lunar/moon_tree.html
Purchase online: https://www.toasttab.com/firepowercoffeeroasters/v2/online-order#!/order