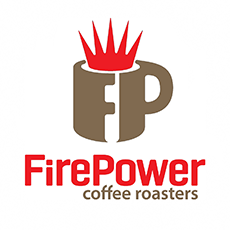 "Our business is much more than a family-owned roastery – it is the culmination of our long-held vision to embark on a journey of excellence.
The time and distance we have traveled on that journey has led us to a satisfying final step – the FirePower coffee we offer you to savor."
Bill and Carol Beck, owners of FirePower Coffee Roasters, LLC.
OUR STORY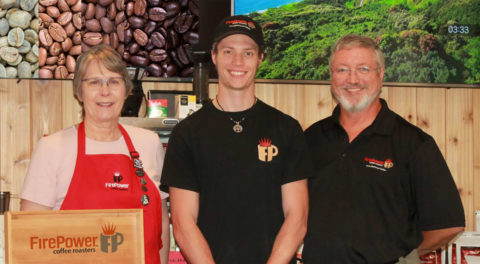 Bill's earliest recollection of coffee was being out fishing with his Dad, whose thermos of hot coffee mingled that familiar aroma with the magical experience of being in the boat on a chilly morning – memories that fueled the dream he and Carol shared to one day have their own coffee shop.
"During years of demanding careers in exacting fields, Carol and I shared the goal to one day fashion our own warm and inviting local roastery and coffee and tea shop. We made pilgrimages to dozens of coffee shops and roasteries to assess the atmosphere, look, and feel of the various shops. We felt confident we could bring our standards of job excellence and accomplishment to this entirely new undertaking.
Finally we saw an opportunity for the coffee and tea business in North Central Florida. With our long roots in the Lake Region area we chose Keystone Heights as our launching pad for FirePower Coffee Roasters." -Bill
A visit to FirePower Coffee Roasters is a personal experience – you'll meet Bill and Carol and their son Lake. Bill is assisted with daily roasting operations by Kenny, who joined them shortly before opening. Carol has become the certified tea sommelier and shares her knowledge with interested customers.
YOUR PLEASURE
The comfort and enjoyment from an aromatic cup of coffee or tea adds to the richness and meaning of a day, whether sharing a moment with family, consoling a friend, or reflecting alone.
Lake Area community residents can now purchase excellent coffee beans locally, sourced from global suppliers, and roasted on site for the ultimate in fresh taste. Take your favorite beans home whole or ground to your specifications. Coffee beans from around the world are roasted on the premises throughout the week from light to very dark, for your custom cup of home brewed coffee.
Interested in exploring the range of coffee flavor? At FirePower Coffee Roasters, you can indulge a daily rotating selection of brewed coffees from around the world for tasting – or enjoying a full cup-'a-Joe.
FirePower also offers specialty teas from Two Leaves and a Bud, steeped to enjoy a pot in the shop, or for purchase in a sachet, box, or bag for tea-time at home.
"The satisfaction of your experience with our product is a responsibility we take seriously. We bring our years of experience, expertise and success from former careers to the business of making your coffee or tea moments perfect. All of us are glad to take that extra time to answer questions or provide a short tour of our operations." -Carol
OUR CRAFT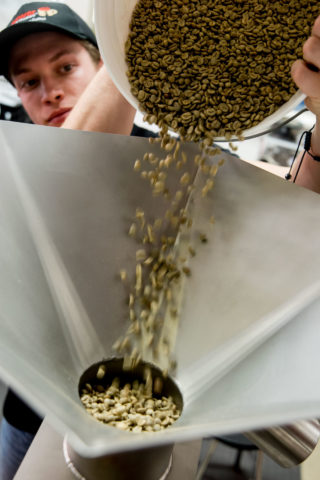 The work of opening FirePower Coffee Roasters has been a labor of love.
"We started learning our craft years ago with a small home roaster – a Behmor 1600+ that produced one-pound per hour. From there we progressed to training and certifications from the Specialty Coffee Association and Specialty Tea Institute. Our roaster at FirePower today can produce over 500 pounds of coffee beans a day – quite a step up from the one-pound-per-hour home roaster!" -Bill
Freshness is the key ingredients at FirePower Coffee Roasters. From seed to cup, each step of the purchase and production of FirePower coffee beans is optimally timed to bring you the finest result. Tea is selected and carefully stored and packaged so that every cup is at peak flavor for your enjoyment.
"We want our customers to taste the difference of a good quality cup of coffee or tea – and to keep coming back for more good brew and friends." -Bill and Carol